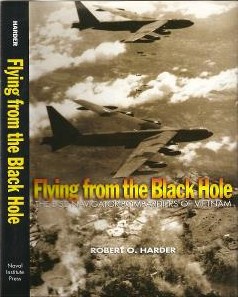 FLYING FROM THE BLACK HOLE: THE B-52 NAVIGATOR-BOMBARDIERS OF VIETNAM
Naval institute Press, Annapolis, MD 2013, paperback, list $29.95 The story of the B-52 non-pilot officer aircrew, the navigators, radar-navigators, and electronic warfare officers-during the war in Vietnam, as told by one of their own. Order from any bookstore or online Amazon, Barnes & Noble, Naval Institute Press.
THE THREE MUSKETEERS OF THE ARMY AIR FORCE: FROM HITLER'S FORTRESS EUROPA TO HIROSHIMA AND NAGASAKI
Naval Institute Press, Annapolis, MD,2015, Hardcover, List $39.95
The personal and professional life stories of ENOLA GAY PILOT Paul Tibbets, bombardier Tom Ferebee, and navigator Dutch Van Kirk. Order from any bookstore or online Amazon, Barnes & Noble, Naval Institute Press
HIGH ROAD TO HANOI
Jim Larkins published a historical fiction novel covering B-52 operations from the Cuban Missile Crisis through the Vietnam War. The book is entitled "High Road to Hanoi," and portrays the lives, concerns and emotions of the B-52 crew members during the height of the cold war. The period of the narrative is from 1962 to 1973 and offers unique insights into how a dedicated group of professional warriors conquered the unrelenting pressure of simultaneously fighting two different kinds of war. The book is laced with humor, drama, poignancy, and melancholy (489 pages, 34 photographs). Cost is $29.95 plus $5.00 shipping and handling.
Contact: [email protected] or www.thelastwalnut.com
AV8R provides direct service from the author with next day shipping. Signed copies upon Request:
AV8R, 13518 West Meadowview Lane, Nine Mile Falls, Washington, 99026
Phone - 509.466.8148 Email - [email protected]
WHERE THE BUF FELLOWS ROAMED
... is an anecdotal history of an Air Force pilot in the Strategic Air Command. As the author performs his preflight, inflight, and postflight activites of his last mission in the BUF (BF2), memories of his career as a pilot unfold into a collection of experiences and vignettes, often with a humorous bent. He presents the human side of flying a serious mission from the boredom of nuclear alert to the tedious missions in Southeast Asia. A technical knowledge of flight or the military is not necessarily to understand and experience his alst flight "where the Buf fellows roamed."
Tall Tall Tales
...is a collection of his stories as well as those of others. While most are about flying, some are not. Some may make you laugh, some may give you pause, and maybe shed a tear with Reflections.
THOSE WERE THE DAYS: A COLLECTION OF TALES
A selection of tales about the military, flying, SAC, and Southeast Asia from a variety of sources.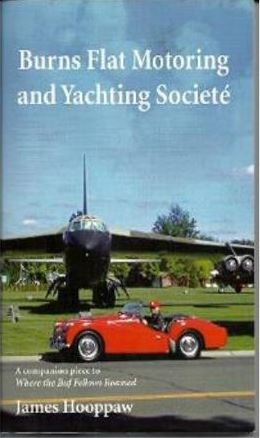 Burns Flat Motoring and Yachting Society
A companion piece to Where the Buf Fellow Roamed, you can learn what a pilot drives when he's not flying... From coast to coast, you will learn some of a man's greatest pleasures...driving, owning, and looking for cars.
Learn the answers to questions like; "what's a drop-dead coupe?", "Why not travel with animals", and "Where the #$@* is Burns Flat?"
Col. Hooppaw with two of his favorite vehicles, the TR-3A and the B52-D (BUF), both of which he has spent thousands of hours driving. The Buf, 56-676 is the last D model to fly. It is also the first to down a MiG.
The "Super SAC" Cartoon Book
Jerry Thompson has recently re-produced a third edition of his "Super SAC" cartoon book. This 3rd edition has been expanded to include many of the illustrations produced long after the original two version were made available. It depicts, in detailed drawings, illustrations of the more humorous aspects of SAC life from the eyes of a B-52 combat crewmember.
The drawings will bring back fond memories of a great time long past but not forgotten. This edition is in a larger format than before with state-of-the-art binding and is now available on eBay for $25 which includes all handling and shipping.
Beyond Buff
BEYOND BUFF chronicles Peter Coughlan's twenty-year career (1967-1987) in the U.S. Air Force, from his early years training as a pilot and serving in the Vietnam conflict, to his transition into a computer systems officer at Strategic Air Command headquarters, up through his work with the Office of the Joint Chiefs of Staff at the Pentagon.  He currently lives in Fairfax, Virginia, with his wife Nancy; they have three sons and seven grandchildren.